So I sort of forgot about this blog for a while, but I thought it was about time I updated it. It's been 3 months after all (Christ, it's been a while).
If you follow this blog for the weeb stuff, I talk about a bit at the bottom.
08/05/20
Since the last post, it's been a bit of a blur of not-a-lot, although I have been having quite a good time. I spent the 2 weeks in isolation with my brother (he said he'd isolate with me because he was bored and I'd be bored too. How nice of him). We played a lot of animal crossing, a lot of pokemon, and made some music. Not too different from our usual schedule to be honest.
It was a bit depressing staying inside with such great weather outside but we got through it in the end.
The day before the last day of isolation, I wrote up the previous blog post about leaving japan and snapped these two shots early in the morning.
The first day out of isolation our sister was giving haircuts round the family. Of course not the best solution, but with everything shut at the time it was all we had. She gave me and will haircuts, and I snapped some pics of her giving one to our dad. She's given quite a few since but not to me. My hair's far too long now and I really need a trim.
The same day we went to our friend Charlie's house. We've been spending the holiday going to theirs quite a lot. Here's a few pics of that.
16/05/20
We also went on a family walk by the north coast along the cliffs.
We headed back further inland and came across a field of sheep. Quite tame too.
14/06/20
Another day, I went along to the beach to meet up with some friends. I took my camera with me and took some nice pictures.
Le Braye in St Ouen seems like it's a very popular spot for BBQs and get togethers. There's a good cafe there too. I think I've been there over 10 times within the last month or so. St Ouen is also very popular with the surfers, since the west coast has fetch pretty much all the way from Canada. Here's some pictures from one of my visits.
12/07/20
Since June, the Kart track has finally opened up and they've been trying to cram in as many races as they can to make up for the late start.
I also got featured in the local newspaper. Look mum I'm famous.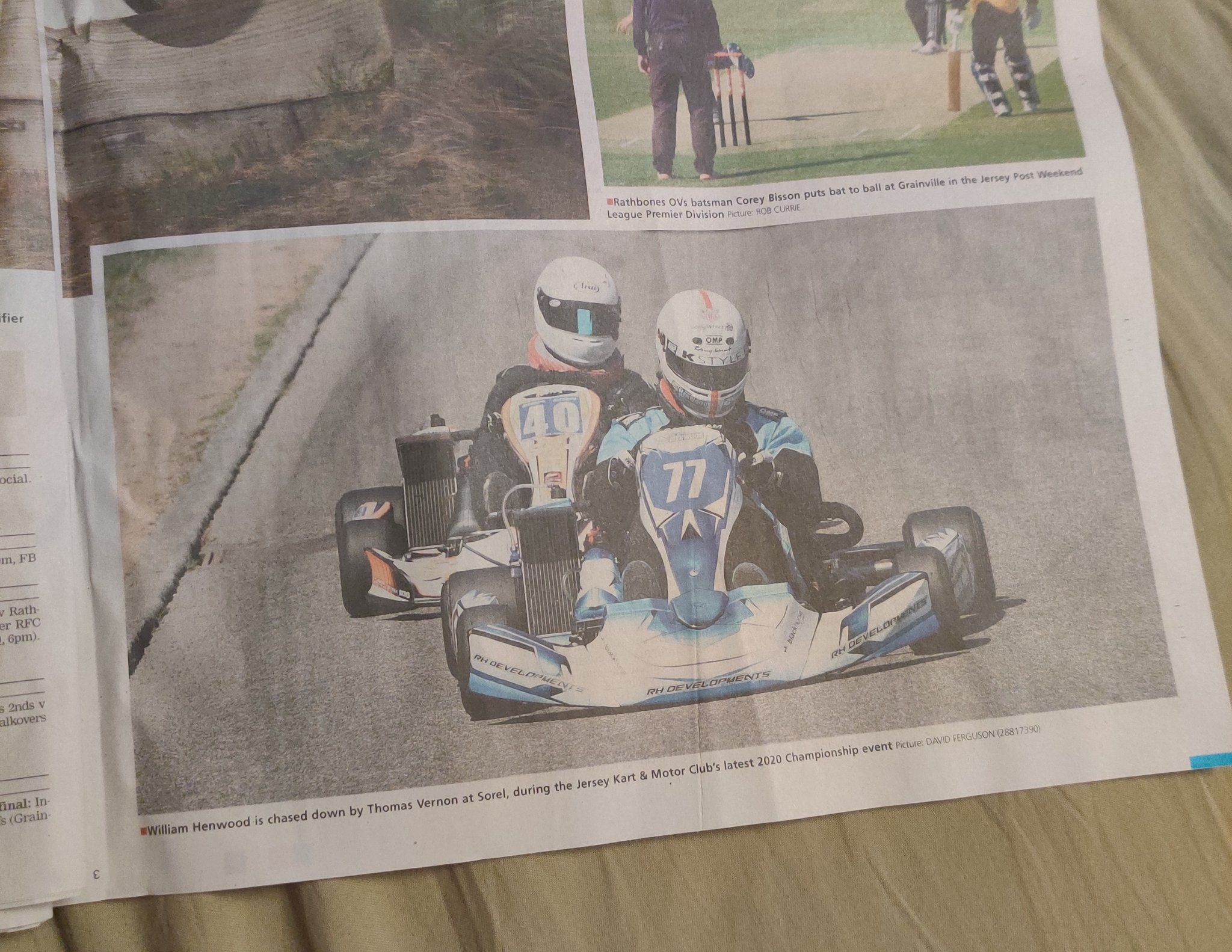 Since we were among the first to open up, Motorsport UK made a cool video featuring our track on the various safety regulations on COVID-19 and all that.
And more recently, we went on a little cycle ride across the island to Rozel to eat at The Hungry Man. A well known beach cafe that serves great burgers and all sorts. Here are some pictures I snapped while eating my burger.
So that about does it of roughly summing up the summer so far. Think about everything that's happened in this post and multiply it several times, and that's basically it. I've also sort of stopped playing CSGO and am now bashing daily on the new Call of Duty. I'm max level already. In a weeks time my family and I will be meeting up with The Fantasy Orchestra (organised by my uncle) to meet up with some more family and cycle with them on their tour, because why not. I sort of want to experience the camping in the wilderness stuff again. It's been a while since I did it in Japan across Yamanashi and Nagano and I sort of miss it.
Music
Since I've been back I've released two tracks. One on a Various Artists compilation courtesy of Misplaced Recordings, called "Healing Process". The intro features a clip of one of my friends during an outing to London about a year ago. I met up with these people for the first time after talking to them for a long time online as part of Lofi.Family.
It's been doing much better than I expected, has had quite a few downloads on Bandcamp and has even been played by a few higher up artists like DJ Boring! Here's my track on the compilation.
I've also self-released another track called "Route E52". It's named after the road that I took the picture for the cover art of, when Damien (the French guy I met at Kakurinbo) was giving me a ride back to Minobu. Here's that one.
And finally, Ocean Drive Radio asked me to do a mix for their channel. I included some of my favourite music, some deep house and some ambient techno too. If you're interested in any of that maybe you'll want a listen.
A mix I did for News From The Treetops, a radio show on Balamii Radio, aired a few days ago. The Soundcloud upload should be up soon, and I'll repost it to my profile when it is.
The Weeb Stuff
In terms of Anime and the like (if you follow this blog for that wahaha), I watched Tenki no Ko with my sister. She thought it was a bit too lovey dovey for her tastes, but I love it. I feed on that shit. Art was brilliant as expected from the studio that did Your Name.
My good friend Michael Vito did a pilgrimage to the Tokyo locations and put all the pictures on flickr. Brilliant photos as always. You can check it out here.
I've also been watching Kaguya-Sama. I binged through the first season to prepare myself for season 2, and my sister watched through it all with me as well. She really likes it. I love it too. I haven't finished it though, I've reached the part where the new characters are introduced. If you haven't watched both of these I highly recommend.
Oh I also watched Hitoribocchi. It's definitely aimed at a slightly younger audience, but nevertheless its a nice lighthearted wholesome watch. Bocchi and her social anxiety is just too adorable.
I believe the third season of Oregairu is currently airing as well. Looks I'm gonna have to binge through the first two seasons again. Welp.